Full Distance Ironman in Lake Tahoe
North & West Shore (CA)
Full Distance Ironman in Lake Tahoe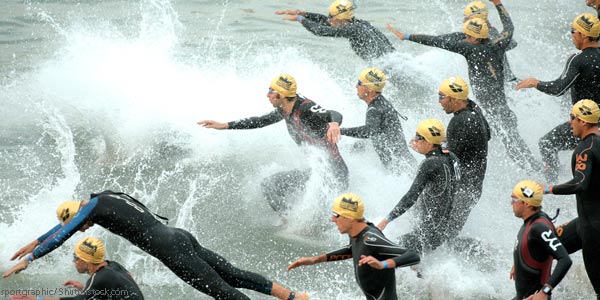 Full Distance Ironman in Lake Tahoe Summary
Event Overview: The full distance Ironman in Lake Tahoe is the first one in California in 12 years so this is not an event to be missed! The race starts with a 2.4 mile swim in Kings Beach, with waters averaging 65-70 degrees, followed by 112 miles on bike and 17 miles on foot.
What to Expect: While athletes can expect fierce competition and lots of training prior to the full distance Ironman in Lake Tahoe, there are also many rewards to the race, the first of which spectators can enjoy too!
Scenic Views: The Ironman at North Lake Tahoe starts with a swim in the waters of Kings Beach. Next comes a bike ride along the lake into Tahoe City, past the Truckee River by Squaw Valley and into the Old West town of Truckee, California. The biking is then followed by a 17 mile run at Squaw Valley, home to the 1960 Winter Olympics. The course turns back toward Lake Tahoe, with a loop in Martis Camp, past Northstar California and climbs to Brockway Summit, finishing with the decent back down to Kings Beach, where athletes will do it all over again in their second loop. The number of places these athletes will reach is huge, and at each different place there is a gorgeous scenic view for all to enjoy!
Big Money: While it does cost quite a bit to compete in the Lake Tahoe Ironman, the prize purse is $75,000. That's quite the incentive if you ask us! Of course, with the amount of work it takes to be able to compete in a race like this you can expect that most of the participants are in it for the sport, not just the money.
A Chance to Qualify: This race will offer 50 age group slots to the 2014 Ironman World Championship taking place October 11, 2014. Whether you are an athlete taking the chance to qualify for this great world event, or a spectator ready to cheer on your favorite competitors, the Ironman Lake Tahoe 2012 will be a defining match for everyone present.
Inside Knowledge: The full distance Ironman in Lake Tahoe will be a nice way to continue North Lake Tahoe's branding campaign, which is encouraging visitors to experience the area firsthand in active ways by the trails or on the lake. There is nothing like witnessing an Ironman race to inspire travelers and locals to get out there and enjoy Tahoe's huge variety of active things to do!
Event Hints:
Train Hard: The full distance Ironman in Lake Tahoe is not for the faint of heart, and it's going to take a lot of training to finish the race, and even more to earn one of those 50 spots in the Ironman World Championship.
Volunteer: If you don't think you can handle being an athlete in the race, maybe you would be better suited as a volunteer. The Ironman at North Lake Tahoe will start listing volunteer opportunities on their website as the race draws near! This is a great way to support the event and get front-row access to all of the action.
Full Distance Ironman in Lake Tahoe Information
Info
Location:

North Lake Tahoe, CA
View Map
Website:
http://ironmanlaketahoeca.com/
Quick Facts
The Full Distance Ironman in Lake Tahoe is set for Sunday, September 22, 2013.
The Lake Tahoe Ironman will be the first fill-distance Ironman event in California since 2001!
The waters in September at Lake Tahoe average about 65-70 degrees, perfect for competing athletes.

Need a place to eat in North & West Shore (CA)
User Average Review
Overall:
Event:
Location:
Staff:
View:
Based on 0 reviews
Rating Distribution
0.0% recommended it
Full Distance Ironman in Lake Tahoe Reviews

Fun things to do in North & West Shore (CA)
*Some images shown above are not actual photos from the venue, but category representations. Visit the venue's web site for actual photos.
Full Distance Ironman in Lake Tahoe

Location

Kings Beach, CA

North Lake Tahoe, US


Event Dates

09/22/13

Event Cost

$675 - $1350
Need some nearby lodging? Check out these great North & West Shore (CA) hotels
Nightly Rate*

AAA Four-Diamond, full service, luxury resort at the base of Squaw Valley in North Lake Tahoe.

Address: 400 Squaw Creek Rd Olympic Valley, CA 96146

The Village at Squaw offers guests several Specials, Packages & Deal options!

Address: 1750 Village East Rd Olympic Valley, CA 96146

Lakefront accommodations with a private beach and a welcoming atmosphere

Address: 8200 N. Lake Blvd Kings Beach, CA 96143

Luxurious accomodations slope side in the new Village at Northstar™ and at Old Greenwood, Lake Tahoe's premier four season resort community.

Address: 4001 Northstar Drive Truckee, CA 96161

The Cedar Glen Lodge Tahoe Offers Great Family Friendly Accommodations and Activities

Address: 6589 N Lake Blvd Tahoe Vista, CA 96148