Beach Hut Deli Lake Tahoe
South Shore (CA)
Location
1072 Emerald Bay Road
South Lake Tahoe
,
CA
Cuisine

Deli, Cafe & Coffee

Hours

Mon.- Fri. 10:30am- 8pm, Sat.- Sun. 11am- 7pm

Price

$$
Pricing Guide - Cost of one meal
$ - $10 and under $$ - $11-30 $$$ - $31-60 $$$$ - $60 and above
Summary
Features: Beach Hut Deli Lake Tahoe serves all kinds of delectable sandwich creations. With an extensive menu of sandwiches that are set to rock your world, Beach Hut Deli Lake Tahoe is the perfect place to come for a filling lunch, big afternoon snack or casual dinner.

Why We Dine: Beach Hut Deli Lake Tahoe offers large gourmet sandwiches that do away with your hunger in the tastiest way possible. Beach Hut Deli Lake Tahoe has a vast selection of yummy sandwiches so that you can find something that appeals specifically to what you're craving at the moment.
As if the lip licking good sandwiches weren't enough, Lake Tahoe Beach Hut Deli also offers domestic and micro beers to go along with your meal.
The Portion Sizes: Make your visit to Beach Hut Deli South Lake Tahoe when you're ready to eat a large quantity of food. The sizable sandwiches at Beach Hut Deli South Lake Tahoe are designed for those with very hungry stomachs or those who want to split a sandwich with a friend.
The Big Selection: Get ready to explore a whole new world of sandwiches. Your eyes may never have seen a menu quite so vast for sandwiches before, and the fun of eating here is partially due to the amount of great options that you now have. The Beach Hut Deli menu awaits your exploration.
The Beers: Washing down your sandwich with domestic and micro beers makes your meal feel complete. If you eat the Beach Hut Deli Lake Tahoe sandwich alone and you are normally a beer appreciator, you may wonder what the missing puzzle piece to this otherwise great meal might be. As it turns out, the beers can solve that mystery for you.
Inside Knowledge: Beach Hut Deli South Lake Tahoe offers a few snackable goodies for those who want to eat something other than a sandwich. Pasta salad or chili nachos from Beach Hut Deli South Lake Tahoe, anyone?

We Recommend:
North Shore Sandwich: Beach Hut Deli Lake Tahoe offers this meaty wonder to those carnivorous beings who must have meat piled upon more meat to feel satisfied in their bellies. Canadian ham, turkey and pastrami lay atop each other, graced by the presence of Monterey jack cheese and Italian dressing to top off this looker of a sandwich.
Surfin' Cow Sandwich: Roast beef is the meat of choice spotlighted in this sandwich, and it is delightfully accented by strips of bacon. Avocado and cream cheese add soft deliciousness to the overall flavor experience.
Restaurant Amenities
Happy Hour
Wheelchair Access
Outdoor Seating
Take-Out Available
Free Wi-Fi
Healthy Options
Kid Friendly
Beach Hut Deli Lake Tahoe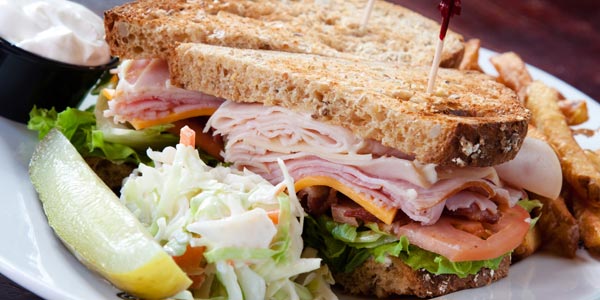 Beach Hut Deli Lake Tahoe Information
Info
Location:
1072 Emerald Bay Road
South Lake Tahoe, CA 96150
View Map
Phone:
530.541.7873
Hours of Operation:
Mon.- Fri. 10:30am- 8pm, Sat.- Sun. 11am- 7pm
Quick Facts
Beach Hut Deli serves up huge sandwiches for people with big appetites!
Beach Hut Deli Lake Tahoe stand out because of the wonderfully friendly staff here.
Lake Tahoe Beach Hut Deli has happy hour specials to easily keep you within your food budget.
Restaurant Website:
http://www.beachhutdelislt.com/
Restaurant Menu:
http://www.beachhutdeli.com/menu.php

Fun things to do in South Shore (CA)
User Average Review
Overall:
Menu:
Ambience:
Location:
Service:
Based on 0 reviews
Rating Distribution
0.0% recommended it
Beach Hut Deli Lake Tahoe Reviews

Not what you're looking for? Check out these nearby restaurants.
*Some images shown above are not actual photos from the restaurant, but category representations. Visit the restaurant's web site for actual photos.
Need some nearby lodging? Check out these great South Shore (CA) hotels
You can walk to Gondola & Casinos, is Pet Friendly, Offers Deals and has a Private Beach

Address: 931 Park Avenue South Lake Tahoe, CA 96150

Forest Suites Resort at Heavenly Village offers hotel rooms & oversized suites that sleep 4-6 adults.

Address: One Lake Parkway South Lake Tahoe, CA 96150

Stardust Tahoe Rests in the Heart of Tahoe's Best Shopping and Entertainment

Address: 4061 Lake Tahoe Blvd South Lake Tahoe, CA 96150

The Americana Village Tahoe Is One Of The Best Cheap Tahoe Hotels

Address: 3845 Pioneer Trl South Lake Tahoe, CA 96150

Discounts, Deals and FREE Breakfast! On-site restaurant, pub & pool!

Address: 3600 Lake Tahoe Blvd. South Lake Tahoe, CA 96151