Mountaintop Thanksgiving Dinner at High Camp
Squaw Valley
Mountaintop Thanksgiving Dinner at High Camp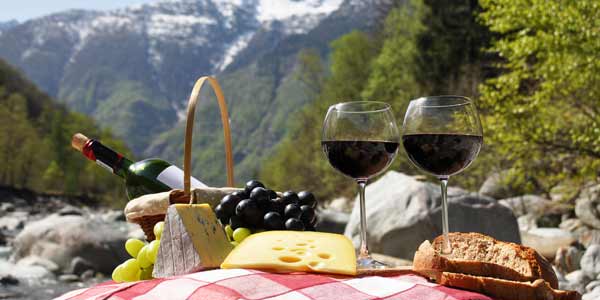 Mountaintop Thanksgiving Dinner at High Camp Summary
Event Overview: The Squaw Valley High Camp will be serving Thanksgiving dinner on the mountaintop on Novmeber 22, 2012! Let the piano serenade you while you enjoy the heartiest meal of the year in Squaw Valley before (or after) a day on the slopes!
What to Expect: You can still get a tranditional Thanksgiving meal while you're on vacation in Lake Tahoe, but with better views and more beautiful piano music!
Traditional Thanksgiving Meal: They'll be serving turkey, ham, pies, sweet potatoes and more! Don't worry about slaving in the kitchen all day preparing a meal for your family! Get out and have fun and let the High Camp kitchen cook for you!
Beautiful Views: Enjoy your views of Lake Tahoe and the Sierra Nevada from this restaurant on top of a mountain!
Serenading Sounds: Steve Palumbo will be playing the piano during both Thanksgiving meals.
Inside Knowledge: The Sqauw Valley Ski Resort opens November 21st this year, so be sure to get there the day before Thanksgiving dinner, or stay after for some family fun!
Event Hints:
Bring Your Camera: This is the perfect location for a photo op! Get a staff member to capture the moment for you so the memory will stay with you forever! High Camp is elevated at 8,200' so there isn't a bad backdrop for your photos anywhere here!
Bring the Whole Family: This is a holiday you'll want to spend with everyone, and the menu is traditional enough (but still high quality) that there will still be plenty for any kid to love.
Mountaintop Thanksgiving Dinner at High Camp Information
Info
Location:
1960 Squaw Valley Road
Olympic Valley, CA 96146
View Map
Phone:
530.452.7278
Quick Facts
Spending Thanksgiving in Lake Tahoe? Don't go without this years Thanksgiving Dinner just because you're on vacation!
The Mountaintop Thanksgiving Dinner at High Camp has a meal at 12:30pm and another at 3:30pm on November 22, 2012.
You can make reservations for your Thanksgiving dinner starting November 1, 2012!

Need a place to eat in Squaw Valley
User Average Review
Overall:
Event:
Location:
Staff:
View:
Based on 0 reviews
Rating Distribution
0.0% recommended it
Mountaintop Thanksgiving Dinner at High Camp Reviews

Fun things to do in Squaw Valley
*Some images shown above are not actual photos from the venue, but category representations. Visit the venue's web site for actual photos.
Location
Alexander's High Camp at Squaw Valley
1960 Squaw Valley Road
Olympic Valley, US

Event Dates

Nov 22,2012

Event Cost

$29 - $39

Need some nearby lodging? Check out these great Squaw Valley hotels
AAA Four-Diamond, full service, luxury resort at the base of Squaw Valley in North Lake Tahoe.

Address: 400 Squaw Creek Rd Olympic Valley, CA 96146

The Village at Squaw offers guests several Specials, Packages & Deal options!

Address: 1750 Village East Rd Olympic Valley, CA 96146

The Squaw Valley Lodge Is The Most Accommodating Hotel In Squaw Valley

Address: 201 Squaw Peak Rd. Olympic Valley, CA 96146

The Painted Rock Lodge Squaw Valley Offers Beautiful Cabin-Style Accommodations

Address: 5048 River Road Olympic Valley, CA 96146

The Plumpjack Squaw Valley Inn is the Best Boutique Resort in Olympic Valley

Address: 1920 Squaw Valley Rd Olympic Valley, CA 96146