Bluebird Taxi
Bluebird Taxi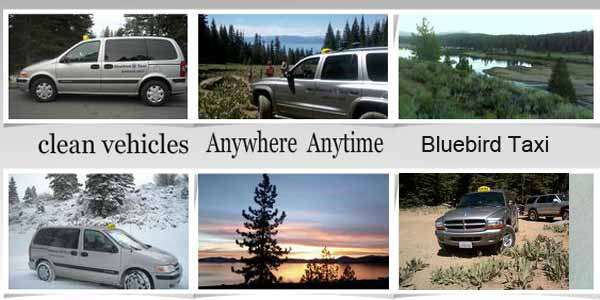 Bluebird Taxi Information
Info
Phone:
530.414.1547
Hours of Operation:
24 Hours A Day
Featured Services
24 Hour Availability
Reno Airport Pickup and Dropoff
Car Seats Upon Request
Bikes and Dogs Allowed
Scenic Tahoe and Truckee Tours
Hourly Rates for Private Parties and Weddings
Quick Facts
Bluebird Taxi provides transportation in Lake Tahoe's Truckee and surrounding areas.
This Lake Tahoe transportation is available 24 hours a day. Call to make reservations in advance for Reno airport transportation, private events and everyday taxi service.
Traveling with a dog? This taxi service with transport man's best friend around Truckee too!
Website: http://www.bluebirdtaxitruckee.com/
User Average Review
Overall:
Cleanliness:
Service:
Punctuality:
Accomodation:
Based on 0 reviews
Rating Distribution
0.0% recommended it
Bluebird Taxi Reviews

There are currently no reviews!

Type

taxi

Hours

24 Hours A Day
Summary
Features: Bluebird Taxi provides convenient transportation in Truckee and surrounding areas in Lake Tahoe. When you need a ride, these Lake Tahoe taxis are available 24 hours a day to get you to your destination. Lake Tahoe transportation can also be booked for private parties and weddings.
Know Before You Go: These Lake Tahoe taxis provide 24 hour transportation in Truckee, Northstar, Squaw Valley and Soda Springs. Heading to Reno or North Tahoe from one of these areas? You've got a ride with Bluebird Taxi!
Anywhere, Anytime Service: No matter what time your flight arrives in Tahoe or is scheduled to head back home, these Lake Tahoe taxis can take you. Bluebird Taxi operates 24/7, so whether you're catching a flight, arriving in Tahoe on a Red Eye or need a late-night ride home from the bar, you're covered! When you need a ride between the hours of 2:30am and 7am, be sure to make an advanced reservation to guarantee they keep one of the Lake Tahoe taxis free for you.
Sightseeing Tours Available: Want to see the sights? You can take scenic Lake Tahoe and Truckee tours with Bluebird Taxi. Transportation in Tahoe helps you get around town for every occasion!
Bikes and Dogs Ride Too: Some taxis are not equipped to handle your larger luggage or live animals, but bikes and dogs can ride with Bluebird Taxi for just $5 each!
Need a place to stay? Check out these great hotels
Stay in Tahoe City at Americas Best Value Inn for Competitive Prices and Great Location

Address: 455 N. Lake Blvd Tahoe City, CA 96145

Clair Tappaan Lodge Lake Tahoe Inn Provides Affordable Communal Lodging.

Address: 19940 Donner Pass Road Norden, CA 95724

The Days Inn South Lake Tahoe Hotel Offers the Cheapest Nightly Rates Near Heavenly

Address: 3530 Lake Tahoe Blvd South Lake Tahoe, CA 96150

The Donner Lake Village Resort Offers the Best Donner Lake Tahoe Lodging

Address: 15695 Donner Pass Rd Truckee, CA 96161

The Firelite Lodge Offers Fantastic Amenities at a Great North Lake Tahoe Location

Address: 7035 N Lake Blvd Tahoe Vista, CA 96148