Palisades Tahoe Ski Resort
Squaw Valley
Location
1960 Squaw Valley Road
Olympic Valley
,
CA
Type

Skiing & Boarding

Region

Squaw Valley
Summary
Features: Palisades Tahoe Ski Resort is a place in the Sierra Nevada mountains that's like no other, a fantastic place where it snows an average of 450 inches each winter and yet the sun shines three out of every four days. Palisades Tahoe Ski Resort is an escape from the ordinary, and it inspires fun, excitement and greatness in all who visit.
On-site Lodging: There are plenty of world -class resorts, hotels, inns and condos to pick from in Olympic Valley. Two popular crowd favorites are:
Nearby Lodging: Located in Carnelian Bay with excellent views of the Lake, the Tahoe North Shore Lodge is an excellent choice for people looking for value in the form of great rates, clean rooms, and friendly people.
More Features: Squaw boasts 4,000 acres of world famous terrain (ranging from "as tame as can be" to "as tough as you can imagine") that are spread out across six mountain peaks. Thirty lifts, including an aerial cable car and North America's only Funitel, provide unequaled mountain access. When you come to Squaw Valley, awestruck grins are practically guaranteed.

Why We Go: Palisades Tahoe Ski Resort is a kid-friendly winter wonderland. With plenty to do for both kids and kids at heart, the endless fun will leave you with memories to love for a lifetime.
Fun For Kids: Kids get to hang out in a 12,000 square foot facility where they can participate in programs for guests between the ages of 3-12 years. Palisades Tahoe Ski Resort offers junior skiing and snowboarding lessons for ages 7-12 and snow school lessons for ages 4-6. Private lessons are available.
Attractions Galore: Ascend 2,000 vertical feet in Squaw Valley's aerial cable car to High Camp, a world above Lake Tahoe where a mountain of activities await. Enjoy uninterrupted views of Lake Tahoe and the High Sierra from of the many sundecks, ice skate at the Olympic Ice Pavilion, slide and spin in the Snowtubing Arena, travel back in time at the Olympic Museum, and in the spring, relax and soak up the sun at the Swimming Lagoon & Spa.
The Fresh Air: Palisades Tahoe Ski Resort has a no-smoking policy to keep all guests breathing easy.
Inside Knowledge: Palisades Tahoe Ski Resort knows that students appreciate a good discount, and you'll definitely get one when you come during the week. In order to take advantage of the student discount, print the voucher from the website and have it with you when you arrive at Palisades Tahoe Ski Resort.

Do's and Don'ts:
Do Push Yourself: If you consider yourself fairly advanced on your skis, take classes led by professional skiers like Ingrid Backstrom and Dean Decas. They'll help you build upon your already strong set of skills.
Do Have SnoVentures: You can go dog sledding at Palisades Tahoe Ski Resort! You can also go cross-country skiing and snowshoeing, and take horse-drawn sleigh rides.
Don't Light Up: Smoking is not permitted in order to keep the air clean and fresh for all guests.
Don't Skip the Skyjump: This fun activity will have you bouncing off the walls with joy. You'll attach yourself to a bungee system that allows you to bounce on the trampoline and do flips and tricks.
Palisades Tahoe Ski Resort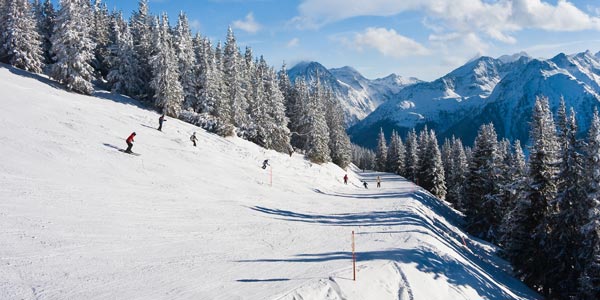 Palisades Tahoe Ski Resort Information
Info
Hours:
Mon.- Sun. 9am- 4pm
When to Go:
Winter
Age Restriction:
None
Phone:
800.403.0206
Website:

Quick Facts
Palisades Tahoe Ski Resort offers ideal levels of white powdery snow upon which to ski and snowboard.
Palisades Tahoe Ski Resort has ice skating for a change of pace when you're done skiing and snowboarding.
Palisades Tahoe Ski Resort provides many different kinds of terrain to satisfy beginner, intermediate, and advanced guests.
Address:
1960 Squaw Valley Road
Olympic Valley, CA 96146
View Map

Need a place to eat in Squaw Valley
Palisades Tahoe Ski Resort Resort Information
Type
Alpine (Downhill)
Info
6 peaks, 25% beginner, 45% intermediate, 30% advanced, 2,840 vertical feet, 450 inches annual snowfall, snow making 600 acres, 6,200' base elevation, 9,050' summit elevation, longest run: 3.2 miles, 3 terrain parks
Lessons
Go through the expert level terrain with a guide when you take the Chutes and Hikes clinic. If you want to learn lots of cool tricks on the snowboard, sign yourself up for the Rider's Camp. Feel like having the ultimate girl's day out? Try the Women of Winter ski clinic and be each other's peppy cheerleaders on as you ramp up your awesome skiing prowess. For a free clinic, you can come to the Tuesday Tips sessions that give you several skill-improvement exercises.
Ski Reports
Hours & Seasons
Lift Operation: 9am - 4pm
Facilities & Services
Scoop up the latest snowy weather attire at The North Face. Their high-quality garments will protect you from the chilly elements and the cold, watery snow. You'll get the perfect mountain wear and even be able to get fancy with accessories and footwear here. If you want Squaw Valley USA logo souvenirs, you'll do well at Squaw Valley Outfitters. Get super comfortable apparel that's emblazoned with Squaw Valley USA logos.
Rentals
Squaw Valley Ski Resort's rental shop carries the high-quality snowboards and skis that will serve you well during your mountain adventure. The rental equipment at Squaw Valley USA Ski Resort is chosen because it works very effectively with this mountain's terrain and snow conditions. For exciting variety, you can go to the demo center and try many different skis in a single day. You'll be able to enjoy diverse rides down the mountain with different equipment.

Things to do in Tahoe during the Winter
User Average Review
Overall:
Location:
Fun Factor:
Service:
Value:
Based on 1 review
Rating Distribution
4.8 out of 5 Stars
100.0% recommended it
Palisades Tahoe Ski Resort Reviews
Palisades Tahoe Ski Resort Hotel

Other hotels in Squaw Valley.
*Some images shown above are not actual photos from the attraction, but category representations. Visit the web site for actual photos.
Need a place to stay? Check out these nearby hotels
Red Wolf Lodge Offers Affordable Ski-In/Ski-Out Accommodations at Squaw Valley USA

Address: 2000 Squaw Loop Rd Olympic Valley, CA 96146